/ Meet the MAGICFX STADIUMBLOWER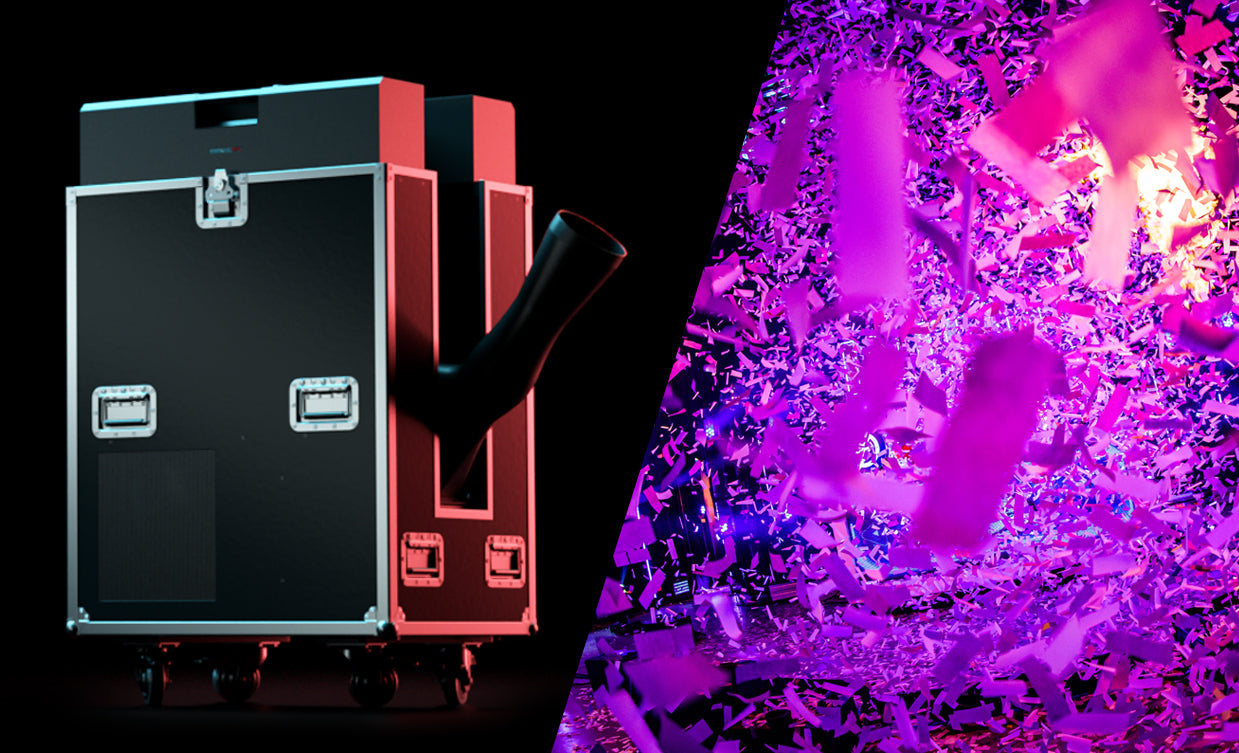 Special FX Australia have proudly had the honour to receive the first units in Australia and the first outside of EU - Introducing the MAGICFX STADIUMBLOWER a non-CO2, all electric confetti blower has a massive output of 15 meters! The STADIUMBLOWER is powered by an extremely powerful but silent electric blower and is DMX controllable. This next level confetti machine contains two, individual controllable confetti chambers to create an effect up to 10 minutes and to change the type of confetti during the show. Blow confetti and blow minds! 
"As Australia's MAGICFX Dealer and representives - We get the first to know about new gear and had the opportunity to invest in the MAGICFX Stadium Blowers a while ago with the promise to keep them under the radar until they were officially released. Since then we have been able to roll them out and road test them on a select few events - which definetly would have been more if it wasn't for all the COVID restrictions and lockdowns at the moment!
Its firstly noticeable that without the requirement of Co2 Cylinders to produce the effect also in turn minimises consumable and running cost which savings can be passed onto the client - also in terms of output and duration, traditionally always limited to the size / qty of Co2 Cylinders (Approx. 30seconds Output Per 10KG Cylinder) the new StadiumBlower can be activated for long or short duration as required and easily and quickly reloaded. I particularly liked the dosing of confetti and consistent output and controlled output from a tiny flutter to a complete whirlwind of confetti! The Stadium Blasters I have never really been truly happy with in that sense, we have tried all sorts of things from agitating the confetti by hand and having a tech on each machine, by another split of co2 into the hopper to aerate the confetti, more confetti, less confetti, fluffing the confetti, different angles, just never have been able to get the perfect consistent confetti drop with the Stadium Blasters for that 3-5kg / 20-30second confetti blast without having heaps left in the hopper or having it all blast super quickly. Don't get me wrong, the Stadium Blasters have probably had the most use out of any of the equipment in our inventory but I always thought and mentioned to MAGICFX it needed something like a washing machine / dryer tumbler inside to achieve a more consistent dosage so great to see this in the blowers.
There is definitely a place on for these machines on a number of different stages, applications and events as well as fills a gap on the market like no other 'BLOWER' effect – of couse being built to the highest standard as we expect from MAGICFX, the STADIUM BLOWER all in all is a great confetti effect, great to see that we can minimise our useage of Co2, a nice complimentary effect to like a swirl fan, the controllable output and doseage allows for more efficent use, super quiet compared to traditional blasters and most blowers, so easy setup and install and I am already thinking some creative ideas and confetti effects especially with the controllable outputs and 2 hoppers - looking forward to rolling these out once restrictions ease and we can get back to making it WOW!"
Luke Fenech
SpecialFX Australia / Blaso Pyrotechnics


FEATURES
/ Powerful electric blower, 15m (!) output (no CO2 needed).
/ Automatic dosing, no operator needed.
/ 2 chambers for 2 different types of confetti.
/ Capacity of 4 kg confetti (2x 2 kg).
/ Adjustable density of confetti.
/ Set your angle: easy adjustable output pipe up to 45 degrees.