/ Custom Confetti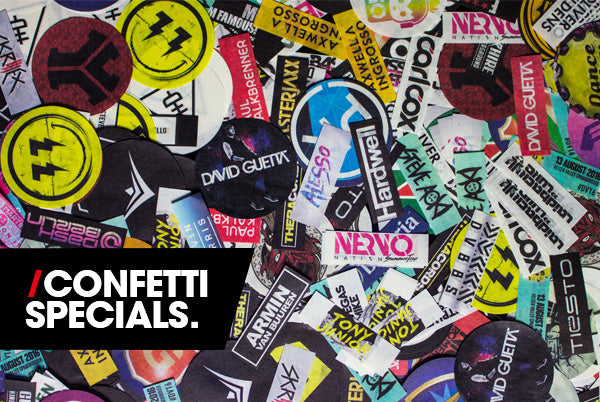 Make your show standout with our custom printed and custom shaped confetti. If you are looking to set your brand or event apart from the rest, why not have your own brand of custom shape confetti we can even complete the look with your logo or design printed on each side.
Our custom cut confetti can feature any block shape, such as squares, hearts, trees bats or anything else. Our custom cut confetti can be made in paper or metallic confetti but the metallic cannot be printed on also.
If you don't want the confetti printed we can create your custom confetti in 1kg bags in sizes between Ø40mm - Ø100mm
Do you want something special for your event? Create your own custom confetti!
Perfect for brands, DJ's, festivals, clubs and artists.


Minimum order quantity just 10kgs.

We can deliver your custom confetti within approximately 3 weeks!
Create your own confetti money!
We offer rectangles, rounds and banknotes as standard. Custom shapes are also possible on request. The possibilities are endless!
/ THE ULTIMATE IN EVENT BRANDING!
QUICK CUSTOM CUT;
LOW VOLUME; starting from 10kgs
CUSTOM SHAPES PRINTED Min. size Ø50mm, max size Ø100mm
CUSTOM SHAPES NOT PRINTED Min. size Ø40mm, max size Ø100mm.
COLOURS PRINT; 1 PMS colour or full colour
PRINT; 1 or 2 sided print
FLAMEPROOF